Hellespont safety commitment recognised in Amver Award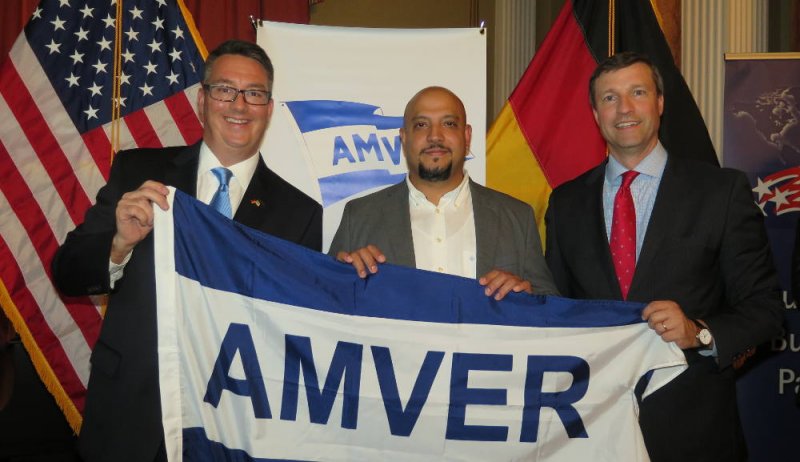 Pictured (l-r): Benjamin Strong, Director of Maritime Relations United States Coast Guard; Capt. Sam Dadachanji, Marine Director, DPA/CSO / Hellespont Hamburg; Ken Walsh, Principal Commercial Officer / Commercial Consul, U.S. Embassy & Consulates Germany.
Hellespont has secured a coveted 'Amver Award', which recognizes a company's dedication to the voluntary United States Coast Guard-sponsored Automated Mutual-assistance Vessel Rescue System.
The ship management, crewing and consultancy group received Certificates of Merit for its participating vessels at a ceremony at the US Consulate Hamburg on the occasion of SMM 2018, recognising the contribution to Amver made by German-registered companies. Amver Awards are given in appreciation of an organisation's dedication to supporting the scheme's role in world maritime safety.
Amver is a computer-based ship reporting system used worldwide by search and rescue authorities to support assistance to persons in distress at sea. On any day there are over 7,000 ships available to carry out search and rescue services.
"We are delighted that Hellespont's commitment to the safety of the global maritime community has been acknowledged through such a prestigious award," said Phrixos Papachristidis, Chief Executive Officer, Hellespont. "Acts of heroism and the bravery of those assisting people in peril at sea are rightly celebrated, but being recognized as a company dedicated to respond when called upon to make such activities possible is especially pleasing for everyone here at Hellespont."
Some 9,264 vessels achieved at least 128 days 'on plot' contributing to 283 lives being saved during 2016. In 2017, in its 60 th anniversary year, AMVER members
saved 153 lives. Participating vessels submit sailing plans to the scheme before departure and update their positions every 48 hours, so that the best disposed vessel can respond to any emergency.
About Hellespont
Hellespont is an international vessel management company with offices in Germany, Greece, Singapore and the Philippines. We provide modern and reliable integrated ship management solutions. We operate and maintain our clients' ships to the highest standards by providing mission-critical services such as commercial and technical ship management as well as crew management services.